Snam's hydrogen challenge features in the "Diamo spazio alla fiducia" ("Give way to trust") campaign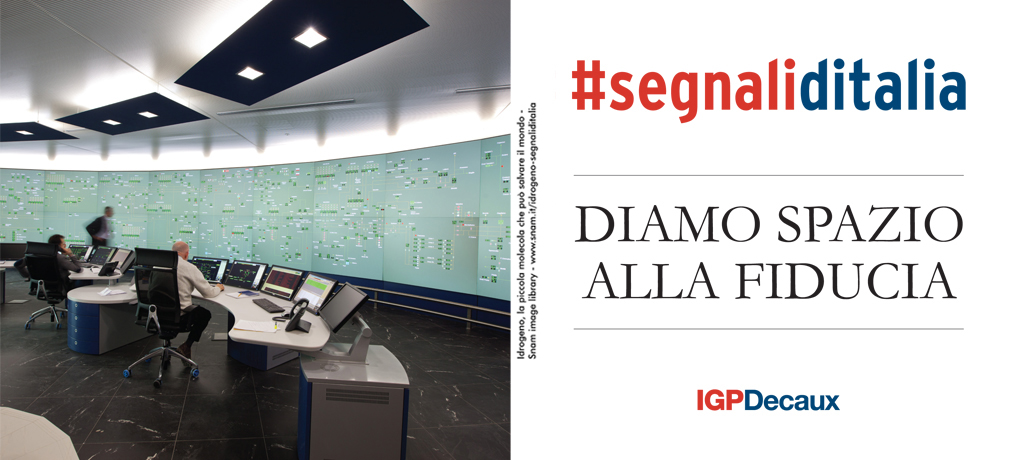 Snam has been selected by IGP Decaux, a leading provider of out of home advertising, to be among the companies included as part of a campaign called "Diamo spazio alla fiducia" ("Give way to trust"), whose goal is to tell Italian stories of positivity and hope after the Covid emergency. At the heart of the choice is Snam's commitment to promote the use of hydrogen as a new clean energy carrier to contribute to the fight against climate change. In fact, the company has been the first in the world to introduce hydrogen into a gas transportation network in Contursi Terme, in the province of Salerno (Southern Italy), supplying two companies, including a pasta factory. The entire infrastructure of Snam, over 30,000 km long, is monitored by the dispatching center of San Donato Milanese, an 24-hour active room with a 40-square-meter video wall in the center, immortalized in the campaign photo. Snam's hydrogen challenge was showcased in May 2020 in a report published on the front page by the New York Times.
Snam is an Italian company that for eighty years has been guaranteeing energy supplies to the country through an interconnected and highly technological infrastructure network.
Snam's infrastructure plays a central role in the energy transition of Italy and Europe and is experiencing important innovations in this direction, contained in the SnamTec (Tomorrow's Energy Company) program. The network that now transports natural gas will in the future carry more and more green gas molecules, such as biomethane obtained from organic waste and agro-food waste and hydrogen, which can represents a key solution to decarbonisation.
Hydrogen: game changer of the energy transition
The first element of the periodic table and the most abundant in the universe, hydrogen is present, combined with other elements, in compounds such as water or minerals, hydrocarbons and biological molecules. In addition to forming about 75% of the material, it is the first ingredient of the Sun, of which it makes up about 90%.
1 kg of the colorless and odorless gas, composed of two hydrogen atoms, powers a fuel cell car for 100 km, provide heating for two days for a home and produce 9 kg of steel from raw iron.
Free form hydrogen is not present in nature, however it can be produced through a wide range of chemical and physical processes. For example, through electrolysis, it is possible to use electricity to "break down" the water into hydrogen and oxygen, without CO2 emissions, and obtain "green hydrogen" if the source of electricity is renewable.
Hydrogen is suitable to be transported in existing gas pipelines, to act as an efficient means of storing energy and to favor the decarbonisation of various industrial and heavy transport sectors. For this reason it is establishing itself as a key solution within global environmental and energy strategies.
Snam and the hydrogen challenge
Snam is the first company in the world to have introduced hydrogen into a high pressure gas transmission network, first at 5% and subsequently at 10%, providing an H2NG (hydrogen-natural gas) blend to two factories. The initiative has generated international recognition, with coverage in major newspapers such as Bloomberg, Financial Times and New York Times. By applying the percentage of 10% of hydrogen to the total gas transported annually by Snam, 7 billion cubic meters of it could be introduced into the network every year, an amount equivalent to the annual consumption of 3 million families and which would allow for a 5 million ton reduction in CO2 emissions.
Snam is also committed to supporting the growth of the Italian hydrogen supply chain through the development of technologies that encourage its use in multiple sectors. In 2019, the company set up a dedicated business unit and in 2020 started collaborations on hydrogen with RINA and Alstom, in the industrial and rail transport sectors respectively.
Snam is also part of the Clean Hydrogen Alliance launched at a European level to support the strategy of the EU Commission that leverages hydrogen to achieve the Green Deal by eliminating net CO2 emissions on the continent by 2050.