Lo Dolce Piano Calendar presented at the Poldi Pezzoli museum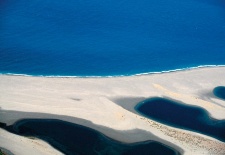 Chairman Alberto Meomartini, CEO Carlo Malacarne and Maestro Ferdinando Scianna presented at the Poldi Pezzoli museum in Milan the "Lo Dolce Piano" photographic project and the Snam Rete Gas 2009 calendar, as part of the Italian landscapes project sponsored by Snam Rete Gas. They were warmly welcomed by Annalisa Zanni, Director of the magnificent museum.
After the Franco Fontana-inspired project on Sicily, the 2009 initiative was spearheaded by Ferdinando Scianna, whose vivid snaps painted a beautiful picture of the Val Padana. This location is a point of convergence for the imports that arrive in Italy via the major international waterways. In this land there are 13,000 km of gas pipelines, almost the same length as the Nile and the Amazon put together, representing the strategic crossroads in the Snam Rete Gas transport network and a key junction for the gas that flows through the entire national network.