Marco Alverà presents the Global Gas Report at the Italian Embassy in London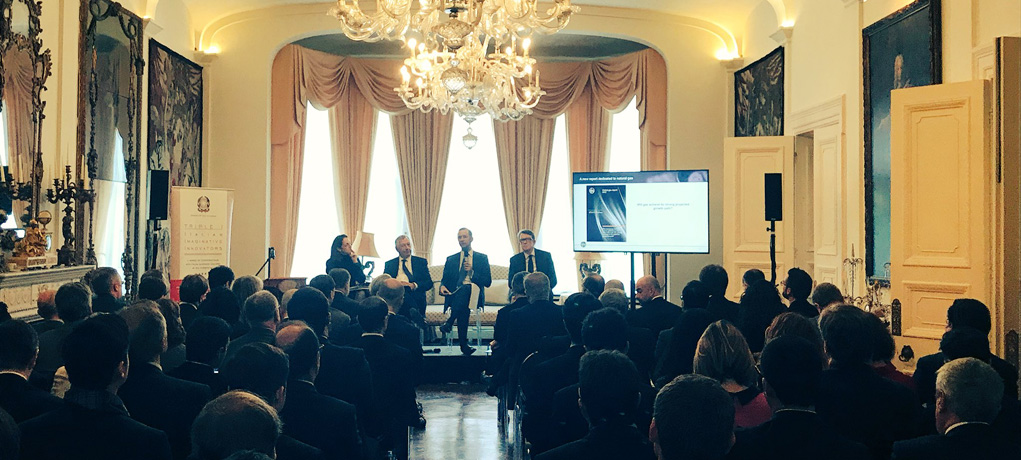 Today the Embassy of Italy in London hosted the 14th event in the Italian Imaginative Innovators (Triple I) series. The Triple I initiative was launched by the embassy in 2016 and consists of a series of conversations with successful Italian entrepreneurs, who present their stories to the London financial community. Today's event was part of the embassy's economic public-diplomacy programme, which has involved over 150 events over the last four years.
The participants who discussed future of the European energy market were Lord Peter Mandelson, the former Labour minister and former European commissioner; Marco Alverà , the CEO of Snam; Nick Butler, an energy commentator for the Financial Times; and moderator Alessandra Galloni, the global news editor for Thomson Reuters.
"The timing of this Triple I could not be more appropriate, in the light of current international initiatives dedicated to the future of global environmental sustainability, such as the COP23 conference and the presentation of the publication World Energy Outlook, held last month in Bonn and Vienna respectively," said Ambassador Terracciano. He added, "initiatives such as these, complemented by reports from individual companies, such as the Global Gas Report 2017 by Snam, illustrate the growing attention and vital importance of the energy sector and its crucial role in the creation of a sustainable future."
"We are grateful to the Italian Embassy for the opportunity to present the Snam Global Gas Report in London. We discussed with our investors and stakeholders about the importance of natural gas in the global energy mix of the future, not only in the context of emerging economies but also in Europe, where both Great Britain and Italy are playing an active role in the decarbonisation process. For Snam, London is an important hub as more than half of our investors are international and many are based here in London, as well as a great number of our strategic partners" said Marco Alvera, Snam CEO.