Environmental management systems
Environmental management systems
In 2019, 227 audits were carried out in relation to HSEQ issues
In 2019 Snam started to update existing certifications, in accordance to the new standards (ISO 14001:15 and ISO 9001:15)
Snam's policy is to minimise the environmental impact of its activities, applying, where technically and economically feasible, the best available technology and implementing specific management systems and procedures
Attesting management systems means to be in compliance with regulations ant to improve processes
To continuously improve its environmental performance, Snam actively manages its commitments with regard to prevention, certifying the management systems of its operating activities in accordance with the reference standard UNI EN ISO 14001.

First and foremost, the environmental management systems should be based on two guiding principles: compliance with regulatory obligations, and the improvement of the corporate response to environmental issues.

The purpose of these systems is to:
identify and control the main environmental issues;
coordinate all activities with an environmental impact;
assign specific responsibilities for their implementation.
Deming Cicle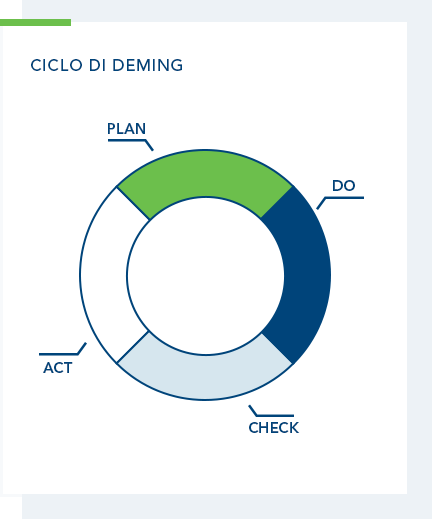 In order to systematically address environmental issues, Snam identifies and analyses the main problems and only then defines strategic and operational measures to manage them. Once this process is completed, the efficiency of these measures is assessed and further weak points are analysed, as necessary. Based on this control phase, the planning cycle then starts over again with the definition of new objectives.

Snam manages the achievement of these objectives through the process explained above, called the "Deming cycle" or "Plan, Do, Check, Act".
Management system certifications:
Also in 2019 Snam implemented all the activities necessary to extend the management system certifications to the new companies entering the scope of consolidation and to maintain and update other existing certifications, in accordance to the new standards (ISO 14001:15 and ISO 9001:15).
To check the effectiveness of the management systems, in 2019 227 audits were carried out at various group companies (92 of them by an external team) and 38 audits at contractors working at sites, on health, safety and environment issues. The latter and the internal audits were partly carried out by the Snam internal team, composed of 47 auditors.
Certifications ISO 14001 for each Snam group company can be seen in this table.