Leonardo in Milan
Snam for Milan
A blue thread binds Snam, Milan and Lombardy together. An history began over 70 year ago in the heart of the Pianura Padana (Northern Italy), since when the Society fostered progress and industrial development of the Country. Snam does all this following an ethical and socially responsible business model, capable of generating value for the Company and for the communities in which it operates, with acknowledged professionalism and transparent dialogue with all its stakeholders, respecting the environment and the territories.
Part of this vision is Snam's wholehearted support and contribute to "Leonardo 1452-1519", an exhibition that portrays every aspect of the course of the ultimate human genius, a man who devoted his life to knowledge and progress.
Promoted by the Ministry of Heritage and Cultural Activities and by the municipality of Milan, the exhibition is curated by art historians Pietro C. Marani and Maria Teresa Fiorio and developed by Palazzo Reale and Skira. The Exibition features more than 200 works coming from a hundred museums and institutions from around the world and it is organized into twelve sections illustrating the key themes in the artistic and scientific career of Leonardo.
A night at the Museum.. with Leonardo
Photo gallery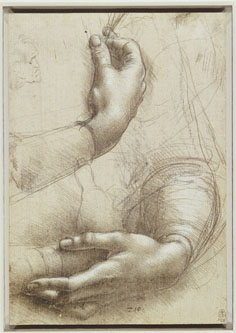 Snam for Leonardo
The work of Leonardo da Vinci is a combination of talent, vision and intuition that could be explored only through a multidisciplinary approach that fully grasps its numerous fields of application, from anatomy to mechanics, architecture, sculpture, painting music – suggests Snam CEO, Carlo Malacarne, in the preface of the exhibition catalog.
An itinerary designed to portray how works apparently not linked together are in fact expression of a careful observation of nature in all its aspects, that combines humanism and science. An approach that permeated all Leonardo's work. Snam honors Da Vinci's aim for innovation and discovery and his love for science and research supporting this exhibition, in connection with celebration of Italian and World excellences at the Universal Exhibition.
Spread of knowledge, pursuit of excellence, and realization of ideas are part of Snam's everyday work, that combines sustainability and development not only to fulfill an ethical duty, but also to generating additional value to share with the territory.
Leonardo on Twitter
Tweets di @snam
Follow the exibition's Leonardo on instagram